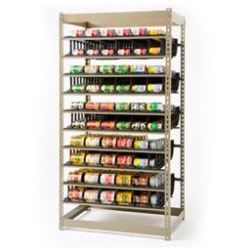 Update (3/8/11): Got the can rack from Ridley's, it is a smaller 42" tall model. I have a similar one already from Shelf Reliance, price there is $181.00. Although the ad says 340 cans and shows the rack pictured here, in actuality, it's about 200 cans (205 for the Shelf Reliance model) and not nearly the deal. I spoke with the store manager, they refunded my money and I hope to get things cleared up with their home office this afternoon.
Ridley's Foods (
http://www.shopridleys.com/
) has a FIFO Can Storage Rack for sale this week and next as part of their Case Lots Sale. For those of you who do not shop the Case Lots Sale, you're missing some of the best deals of the year for your stock up pantry. I strongly encourage you to check this sale out, it happens twice a year, once in March and once in October. However, the can rack is new to their list, and is special order only. According to the store, it is 6'hx3'w,2'd and stores 340 vegetable sized cans or 510 condensed soup sized cans. Normally it sells for $399, on sale for $178.88. Yes, we ordered one to supplement our Shelf Reliance 39" Pantry, the Pantry will be relegated to #10 can storage while our rotation of vegetables will be moved to the FIFO. This is a great deal if you do not currently have a solid can rotation system in place.